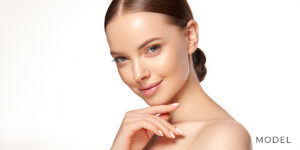 Aging is inevitable, but with the help of effective cosmetic injectables, like BOTOX® and dermal fillers, you can address fine lines and wrinkles, diminishing facial fat, sagging skin, and a lack of facial definition to achieve a more youthful complexion. 
Before you make your next injectables treatment at Advanced Aesthetic Med Spa in Ocala, learn more about the difference between BOTOX and dermal fillers to determine which is right for you based on your cosmetic needs and goals. 
What is BOTOX? 
BOTOX is a widely-known brand name for anti-wrinkle injections. It is a type of neuromodulator treatment that is commonly used to treat and soften fine lines and wrinkles on the forehead, around the eyes, between the eyebrows, and around the mouth. 
It is also sometimes used to treat other concerns, such as migraines, eye disorders, overactive sweat glands, TMJ disorder, and muscle spasms. 
At Advanced Aesthetics Med Spa, we offer both BOTOX and Dysport®. The difference between these two anti-wrinkle injection brands is that BOTOX tends to be much more potent, using a more concentrated dose, while Dysport is a bit more diluted but can spread more quickly than BOTOX. 
How Does BOTOX Work? 
BOTOX is made from botulinum toxin, which is produced by the bacterium Clostridium botulinum. This toxin is a unique type of neurotoxin that temporarily paralyzes muscles by blocking nerve signals. It is perfectly safe when administered by the experienced professionals at Advanced Aesthetics. 
Not only does Botox smooth out and reduce the appearance of facial folds, but it can also help prevent the formation of new wrinkles by blocking the contraction of facial muscles. 
When Should I Get BOTOX? 
BOTOX is an incredibly versatile anti-aging cosmetic treatment that can be ideal for individuals of many ages. If you are considering cosmetic injectables, BOTOX may be right for you if: 
You want a more youthful complexion by reducing the appearance of forehead wrinkles, crow's feet, glabellar lines ('11s' between the eyebrows), marionette lines, and nasolabial folds. 

You are in your 20s and 30s, and you desire to get "baby BOTOX," otherwise known as preventive BOTOX, to minimize the development of facial folds. 
For a more personal recommendation, contact the Advanced Aesthetics team to schedule a consultation. Our aestheticians and skin care specialists can build you a customized treatment plan that targets your cosmetic concerns and delivers the best possible results! 
When Should I Get DAXXIFY?
DAXXIFY® is a newly approved injectable designed to smooth facial wrinkles in adults, offering an alternative to traditional treatments like BOTOX. One of the key differences between BOTOX and DAXXIFY is its formulation. While both are neuromodulators that alter nerve impulses to muscles to create a smoother appearance, DAXXIFY uses a unique peptide-powered formula that doesn't require human or animal components. This makes it a potentially safer and more ethical choice for those concerned about the ingredients in their cosmetic treatments. 
Another significant difference is the longevity of its effects. DAXXIFY is marketed as a long-lasting treatment, potentially offering a more extended wrinkle reduction period than DAXXIFY. While DAXXIFY has been a go-to solution for many, the introduction of DAXXIFY provides a promising new option in cosmetic treatments.
What Are Dermal Fillers? 
A very popular anti-aging treatment, dermal fillers are a group of minimally-invasive cosmetic injectables designed to restore and add volume to your face, as well as other parts of the body that show signs of aging, such as the hands. 
Dermal fillers are typically used for treating moderate to severe wrinkles, enhancing facial features, adding facial definition, and improving the appearance of scars. 
At Advanced Aesthetics Med Spa, we offer several different types of dermal fillers in Ocala, including JUVÉDERM®, Restylane®, Sculptra®, and RHA. 
How Do Dermal Fillers Work? 
Dermal fillers are gel-like substances that are injected beneath the skin to restore lost volume and add plumpness to certain facial features. 
Depending on the type of dermal filler—hyaluronic acid, poly-L-lactic acid (PLLA), calcium hydroxyapatite, and Polymethylmethacrylate (PMMA) are the most common—they can also stimulate collagen and elastin production for long-term benefits and add structure and firmness.
When Should I Get Dermal Fillers? 
Dermal fillers are incredibly versatile and can be used to address a number of cosmetic concerns. Dermal fillers may be right for you if: 
You have noticed a deepening of your "smile lines," known as nasolabial folds (the lines spanning from the corners of your nose to the outer edges of your mouth). 

Your face has a slight "sunken in" or "hollow" appearance due to diminishing facial fat. 

You have lost definition in your cheekbones and desire a more contoured appearance. 

You want to add volume to your lips, which may be on the thinner side. 

Your jawline has begun to sag, contributing to an aging complexion. 

You want to reduce the appearance of depressed acne scars. 

Your hands have lost collagen and fat, leading to sagging skin. 

You desire a more contoured and sculpted nose. 
Through dermal fillers, our experienced administrators can strategically add volume for beautiful contour, definition, and curvature. 
Advance Your Appearance with Injectables 
If you are ready to elevate your appearance with BOTOX or dermal fillers, contact the Advanced Aesthetics Med Spa team. At your initial consultation, one of our highly-trained nurses, aestheticians, or skin care specialists can help you determine which type of cosmetic injectable is right for you based on your unique goals, expectations, and personal preferences. 
Give us a call at (352) 261-6415 or contact us online to schedule your initial consultation at Advanced Aesthetics. We can't wait to help you achieve your cosmetic goals!