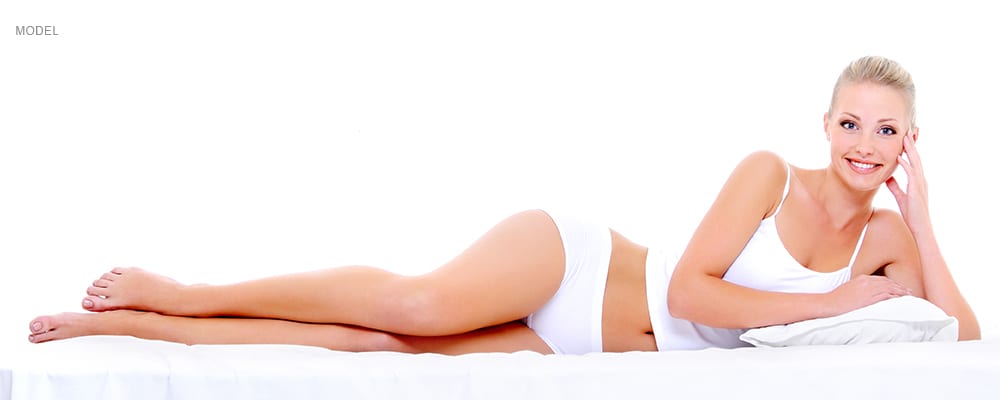 Are you suffering from lingering fat deposits even while eating a healthy diet and exercising regularly? Fat deposits can collect along the abdomen, thighs, and waist to create an unhealthy and unattractive appearance. If you've tried everything else and just can't seem to get rid of this extra weight, body contouring from Advanced Aesthetics Med Spa of Ocala may be exactly what you need.
You'll love the way that body contouring removes stubborn areas of fat in places like a pooch belly or love handles. To make this happen, Advanced Aesthetics in Ocala proudly uses the SculpSure procedure, which is a medically proven breakthrough in body contouring techniques.
What Is SculpSure?
You're sure to appreciate the entirely non-invasive, non-surgical treatment of SculpSure. The process uses lasers to eliminate stubborn fat deposits. Light energy from the laser flows past your skin and into those pesky fat cells underneath. This causes your body to break them down and eliminate them, leaving only healthy cells behind.
Best of all, you can plan for a fast recovery after this body contouring treatment. SculpSure specifically targets only your body's fat cells, which means there's little to no downtime after you're done. Because it also doesn't require incisions or anesthesia, SculpSure is a safer and more convenient way to get the body you want.
What Is the Body Contouring Process Like?
Depending on the size of the treatment area, you can be done with a single session of SculpSure in as little as 25 minutes. You can also treat multiple areas in the same session. At Advanced Aesthetics, we look forward to working with you to come up with a completely personalized treatment plan to address your individual needs.
First, one of our professional clinicians will begin by marking the areas of your body that you want to improve. They will use an applicator to hover over these areas, generating targeted light to penetrate your skin. This is how the SculpSure technology eliminates your fat cells. You can expect to feel a slight warmth, followed by an intense cooling sensation. Many clients find the procedure to be relaxing, and you can pass the time by reading a book, listening to music, or even taking a nap.
Before you know it, the process will be done. You'll be able to return to your Ocala home and get right back to work without any restrictions.
How Long Does It Take to See Body Contouring Results?
Your body needs time to break down and eliminate the fat cells targeted by SculpSure. So it may take up to 12 weeks to see the final results. However, don't be surprised if you start to see a difference within just a few weeks.
If you aren't completely satisfied with your final results, we would be happy to schedule a follow-up appointment to touch up your problem areas. A second treatment can further reduce fat cells, leading to a slimmer more toned appearance. Advanced Aesthetics Med Spa of Ocala is dedicated to working with you until you get the results you want.
How Long Do Body Contouring Results Last?
You don't have to worry about fat cells eliminated by SculpSure ever coming back. Body contouring results are permanent, and the fat cells that were destroyed during the procedure will never return. But you'll still have to practice a healthy lifestyle if you want to maintain your new, slimmer physique. Without a healthy diet and regular exercise, new fat pockets can begin to form in your body, eventually reversing the revitalized look that you've worked so hard to obtain. That's why it's so important to commit to a healthy lifestyle, even before you've scheduled a body contouring treatment at Advanced Aesthetics in Ocala.
Who Is a Good Candidate for SculpSure Body Contouring?
If you have unwanted body fat in your upper and lower abdominal areas or flanks, SculpSure at Advanced Aesthetics in Ocala may be the treatment you've always wanted. The FDA has approved SculpSure to treat these parts of your body. Since this is a non-surgical procedure, it's also especially convenient if you have a busy lifestyle.
But SculpSure isn't necessarily for everyone. If you have a body mass index (BMI) greater than 30, body contouring is unlikely to provide dramatic benefits. This is a process intended to remove smaller amounts of fat. But if you're close to having the body you want and just need a little help to get there, body contouring is a great option.
Get the Appearance You Want With Body Contouring in Ocala
If you've tried everything and still can't get rid of fat deposits in your most troublesome areas, body contouring with SculpSure can help. This revolutionary procedure has helped hundreds of Ocala clients get the bodies they've always dreamed of—and you could be next.
When you're ready to learn more, Advanced Aesthetics Med Spa of Ocala is here to help. Just give us a call at (352) 620-2566 to get answers to your questions and schedule your initial consultation with our medical professionals.