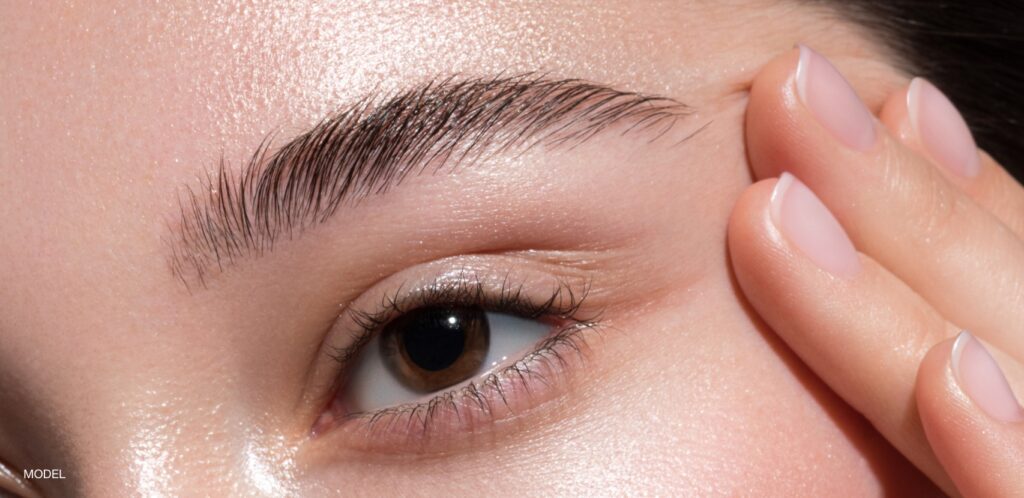 Looking for a way to help your eyebrows look shiny, smooth, and full? Though relatively new, brow lamination has become a popular option for revitalizing your facial appearance with a high-shine eyebrow effect. Beautiful eyebrows are only a treatment away. Get in touch with our Ocala, FL med spa to learn more about brow lamination.
What is Brow Lamination?
Sometimes called an "eyebrow perm," brow lamination can offer depth and definition to eyebrows that are thinning, unruly, or simply not youthful-looking. This semi-permanent procedure does not require the use of needles or coloring. Instead, brow lamination is performed entirely with creams, neutralizers, and oils, which help lift and seal your brow in place.
How Does the Treatment Work?
Brow lamination takes less than an hour to complete without the need for anesthesia.
First, a cream is carefully applied to your eyebrows, lifting them and shaping them according to your aesthetic goals.

Brow hairs are brushed upward, ensuring they are all oriented in the same direction.

Your provider will then apply a neutralizing agent, which seals your brows in place.

Finally, nourishing oil is added to prevent skin irritation and keep your brows properly moisturized.
How Does Brow Lamination Compare to Microblading?
For many, brow lamination is more straightforward and comfortable, as it does not involve using razors or coloring. Like microblading, the results you get from brow lamination are semi-permanent.
What Kind of Results Can I Expect?
You will enjoy full, high-shine eyebrows for 4-6 weeks. You can extend your results by applying nourishing creams daily and returning to Advanced Aesthetics for routine follow-up treatment.
Schedule an Appointment
Transform your look today! Schedule an appointment at (352) 620-2566 with Advanced Aesthetics for brow lamination at our med spa in Ocala, FL.