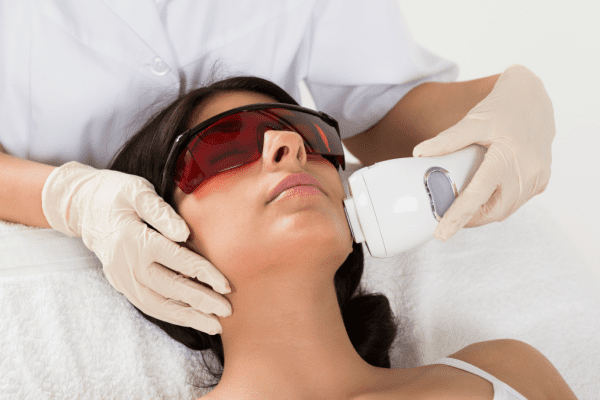 IPL photofacial is a laser-like, broadband light treatment that can resolve a variety of cosmetic concerns. Whether you have visible red veins, fine lines, rosacea or sun damage, you can benefit from this treatment. With regular IPL photofacials, skin may appear more even-toned, less damaged and softer in texture. Come to Advanced Aesthetics Med Spa of Ocala, Florida to see visible improvement in the appearance of your skin.
What is an IPL Photofacial?
An IPL photofacial is a light-based treatment that treats the face, neck or chest. It uses intense pulsed light that skin absorbs in the deeper layers, which helps vascular abnormalities die and collagen production to increase. The treatment works by targeting the adverse or unwanted pigmentation and vascular issues, while leaving intact the surrounding, healthy tissue. Brown spots, wrinkles, redness and other problems may lessen in appearance with a series of three to five treatments (depending on your needs).
What is Treatment Like?
Treatment is non-invasive and carries no downtime. You and the provider will wear protective eyewear. The procedure may last anywhere from a few minutes to thirty minutes, depending on skin's current condition and your treatment goals. Unlike fractional CO2 laser skin resurfacing, IPL photorejuvenation is gentle and less time-consuming after the day of procedure. You should expect little to no downtime, with a lightly pink or flushed appearance after your in-office appointment.
Does it Hurt?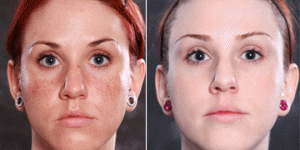 IPL photofacial feels like a rubber band snapping against your skin, which may be uncomfortable. Most Ocala clients do not experience the procedure as painful, although your pain tolerance will vary.We will discuss the procedure at your consultation so you know exactly what to expect.
How Does IPL Boost Collagen Production?
IPL can help the dermis rebuild collagen and elastin, because the skin reacts as if it has been damaged. The healing response of skin can help it regenerate itself, enabling you to see less pernicious fine lines. With regular treatments, you not only help roll back the effects of prior sun damage–you can help protect your skin for the future.

What Cosmetic Issues Does IPL Treat?
IPL can help Ocala clients treat a host of cosmetic problems, including spider veins, large pores, age spots, sun damage, wrinkles, brown spots, rosacea and acne scars. IPL may also act as hair reduction, decreasing visible hair on the face. However, we offer laser hair removal that is more effective if your main treatment goal is to get rid of excess hair.
What Might My Skin Look Like After Repeated Treatments?
When you invest in IPL, you can trust you will see a change in skin. You may observe that skin appears more even. Pigmentation may be less dark, and you may notice skin looks softer.
Who Should Get IPL?
We cannot claim that IPL photofacial is the perfect cosmetic treatment, nor that it is right for everyone. However, it is safe to treat most skin types and tones, although treatment on darker skin may be less effective or result in treatment-induced pigmentation. Please come in for a consultation so we can evaluate your medical history and give you a medical opinion on whether this treatment is for you. We offer plenty of cosmetic services such as chemical peels, dermaplaning and microneedling that may better suit your desired treatment goals.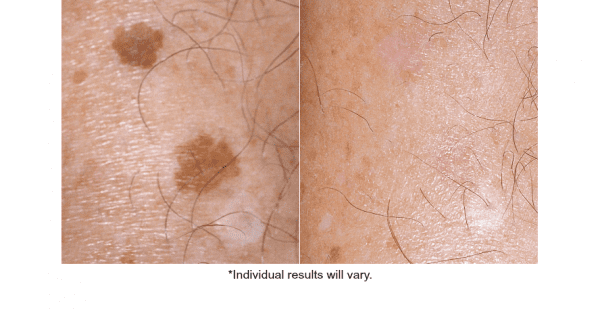 How Does IPL Compare to Facials and Chemical Peels?
While facials are a great treatment to hydrate, soothe and fight acne, they do not do deeper restorative work such as triggering collagen production like IPL can. On the other hand, chemical peels help stimulate new collagen by the peeling mechanism. Damaged top layers of skin peel while younger skin cells surface. However, chemical peels require time off or time away from the public eye, as your skin peels in unsightly ways. Both IPL and chemical peels are excellent options, but IPL may be easier if you are particularly busy or do not desire to be seen with a complexion in its recovery phase.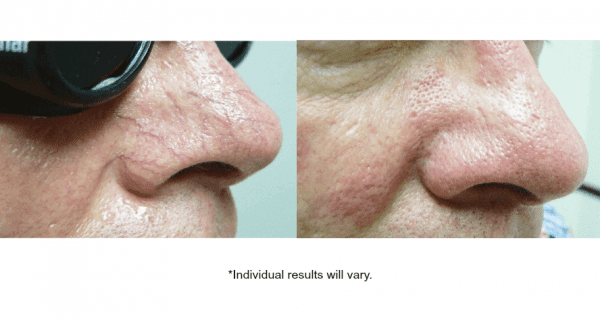 What Can I Expect in the Days After IPL?
You should witness some flaking of your brown spots and subtle changes in the surface of your skin. Some clients observe that results appear almost overnight, although we cannot guarantee your experience will be the same.
I Hate My Freckles: Is IPL the Treatment for Me?
While Advanced Aesthetics Med Spa of Ocala requires a comprehensive medical examination for approval, we can tell you people that are unhappy with the number and darkness of their freckles experience relief with regular IPL. This treatment is well-suited to correcting those pigmentation issues, as the handpiece uses an internal function to locate areas on the skin with abnormal melanin.
Did you know that freckles are a form of hyperpigmentation? When your skin comes into direct contact with sun, the melanocytes or pigment-producing cells can go into overdrive, depositing excess pigment in the skin. Babies are not born with freckles, so they are really a form of sun damage.
Safe Skin Practices After Your IPL
After your IPL treatments, you want to continue or further develop your skin care habits. Do not tan or forgo sunscreen when you are in the sun. Sunscreen should be at least SPF 30. Reapply often and especially after swimming or sweating, which can make your sunscreen less effective. You may even avoid being out in the sun when you can choose indoor activities instead.
Schedule Your First IPL at Advanced Aesthetics Med Spa Today.
We are in the business of helping people live their best version of themselves, everyday. Don't feel remorse or shame for being you. Be beautiful and be true with a series of cosmetic treatments in Ocala, Florida. You'll be glowing and feeling confident when you look in the mirror or go about your day.
Contact our Ocala office at (352) 620-2566 for more information about IPL Photofacial treatments.