Brighten + Restore.

At Advanced Aesthetics in Ocala, FL we offer ZO Skincare, a premium line of skin care products that maintains healthy skin and is a great compliment to our many treatments. ZO Skin Health offers an array of products to restore and rejuvenate the skin regardless of the individual's skin type, gender or age. Their mission aims to improve all skin layers, minimize negative responses, enhance barrier function, as well as easily adapt treatments and preventative protocols. The product line treats skin concerns including acne, rosacea, sun damage, hyperpigmentation, sensitive skin, dark spots and anti-aging concerns such as wrinkles and fine lines. ZO Skin Health is designed for both the face and body of men and women, as well as those in search of preventative solutions to maintain smooth, firm, strong, hydrated skin and an even colored skin tone.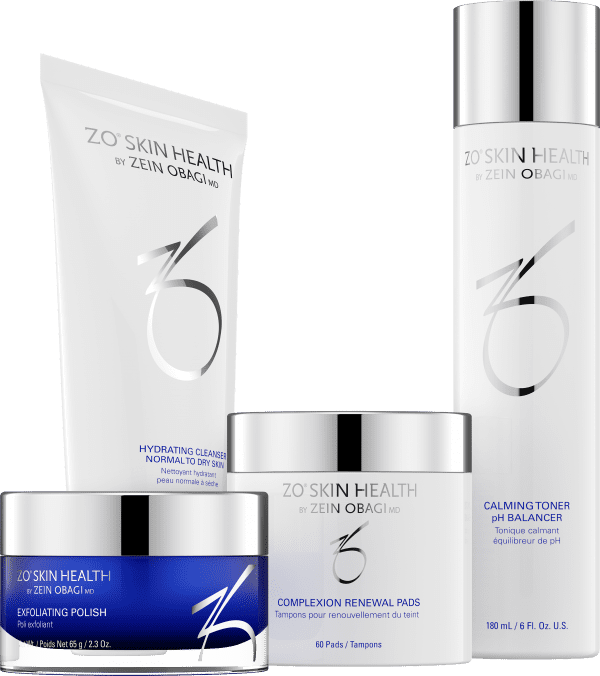 As part of their GSR, or Get Skin Ready line, ZO Skin Health carries three cleansers, two exfoliators and three toners. The cleansing solutions titled, Hydrating Cleanser, Exfoliating Cleanser and Gentle Cleanser, are aimed at gently removing irritants and surface debris from the skin for a clear complexion. The exfoliating solutions include, Dual Action Scrub and their best seller, Exfoliating Polish, are designed to instantly polish the skin in order to restore a smoother texture and a healthy glow. The toner solutions include, Oil Control Pads Acne Treatment, Complexion Renewal Pads and Calming Toner, to balance the skin's natural pH levels.
ZO Skin Health also provides 19 treatment solutions to maximize the skin's barrier functionality in order to achieve dramatic results in skin tone and texture. These include Aknetrol, Melamin Skin Bleaching & Correcting Crème, Melamix Skin Lightener & Blending Crème, Hydrafirm Eye Brightening Repair Crème, Retinol Skin Brightener .25%, Brightalive, C-Bright Serum 10% Vitamin C, Growth Factor Serum, Instant Pore Refiner, Melamin-C Skin Bleaching and Correcting Crème, Radical Night Repair, Retinol Skin Brightener .5%, Sulfur Masque, Rozatrol, Daily Power Defense, Retinol Skin Brightener 1%, Exfoliation Accelerator, Wrinkle + Texture Repair and lastly, Intense Eye Crème.
ZO Skin Health boast four hydrating and calming solutions formulated for individuals who wish to simultaneously provide hydration and calming properties, such as minimizing redness, to their skin. The hydrating and calming solutions line delivers by providing anti-irritation and anti-inflammatory benefits, coupled with hydration. This line includes Restoracalm Soothing Recovery Crème, Revitatrol Epidermal Repair Crème, Renewal Crème and Recovery Crème.
Five different sun protection solutions are also available with combined ingredients to protect the skin against harmful UVA/UVB rays and HEV light. These include Sun Spray SPF 50, Daily Sheer Broad Spectrum SPF 50, Broad Spectrum Sunscreen SPF 50, Smart Tone Broad Spectrum SPF 50 and Sunscreen + Primer SPF 30.
ZO Skin Health carries four professional, high-potency, in-office treatments designed to complement at-home protocols. These include ZO Controlled Depth Peel, ZO 3-Sterp Peel Professional Use Only, HydraFacial Brightalive Booster Serum and HydraFacial Rozatrol Booster Serum.
As part of their body solutions, ZO Skin Health offers, Oraser Noursing Hand Crème, Body Emulsion and Cellulite Control. Sun Spray SPF 50 and Wrinkle + Texture Repair may also be administered on the body.
As an added bonus, products may also be obtained in the form of kits targeted to treat specific skin concerns. ZO Skin Health programs and kits line includes the Skin Brightening Program, Skin Brightening Program and Texture Kit, ZO Multi-Therapy Hydroquinone System RX, ZO Post Procedure Recovery System, ZO Skin Normalizing System, Daily Skincare Program, Aggressive Anti-Aging Program, Anti-Aging Program and lastly, Acne Prevention Treatment Program.
If you would like to experience ZO Skin Health products, stop by Advanced Aesthetics in Ocala, FL today! Our staff is passionate about providing you with a brighten, youthful appearance.