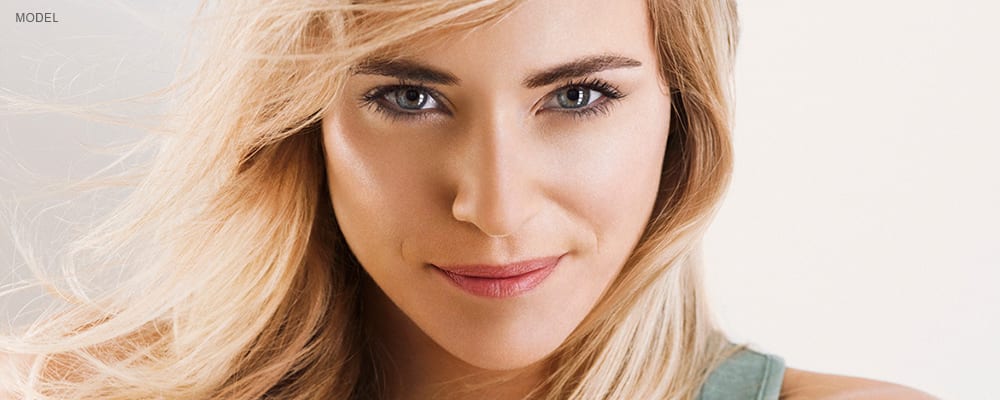 Have you already tried all of the tricks in the book to cover up a double chin? Cleverly applied makeup and wearing a scarf can only get you so far. If your self-esteem and self-confidence have been crushed by the sagging, drooping skin in your neck or chin, you'll be happy to learn about Kybella.
Kybella is an injectable solution that can melt away chin fat, reducing the appearance of a double chin in no time. At Advanced Aesthetics Med Spa of Ocala, our trained specialists are standing by for your Kybella consultation. We would love to help you eliminate your double chin once and for all.
What Is Kybella?
Kybella is a medically-proven injectable solution used to specifically target the fat cells underneath your skin. It works by using a synthesized version of deoxycholic acid, a chemical that occurs naturally in your body. This acid dissolves fat cells in and around your chin, reducing the appearance of fat in your neck and eliminating your double chin.
Kybella is also approved by the Food and Drug Administration, meaning that it represents a safe and effective treatment to eliminate unwanted fat and cosmetic problems like a double chin.

Why Do Some People Develop Double Chins?
You don't necessarily have to be overweight to develop a double chin. To understand how this condition occurs, it helps to understand exactly what it is. A double chin is also called submental fat. Essentially, it's a layer of fat underneath your actual chin. The condition doesn't happen overnight and can be the result of a few different causes, including:
Weight gain.
Genetics.
Diet.
The aging process.
What Happens During a Kybella Procedure?
You'll be happy to learn that a Kybella treatment is simple and easy. First, one of our trained technicians will mark several spots along your chin to indicate where the Kybella injections will take place. Then they'll apply a topical numbing solution so that you won't feel any pain during the injections themselves.
Next, our technician will administer the Kybella treatment. This may involve as many as 20-30 different injections, with more pronounced double chins requiring as many as 50 injections. But don't let this alarm you; most Kybella treatments are completed within just 15 or 20 minutes. In fact, this is the type of treatment you can finish on your lunch break.
While Kybella results are typically impressive, you may need to return for multiple treatments in order to completely eliminate your double chin. You can return to our Ocala location for each follow-up treatment. For safety and efficacy reasons, each appointment must be one month apart, and you will receive a maximum of only six Kybella treatments. The pros at Advanced Aesthetics will help determine exactly what type of treatment schedule you need.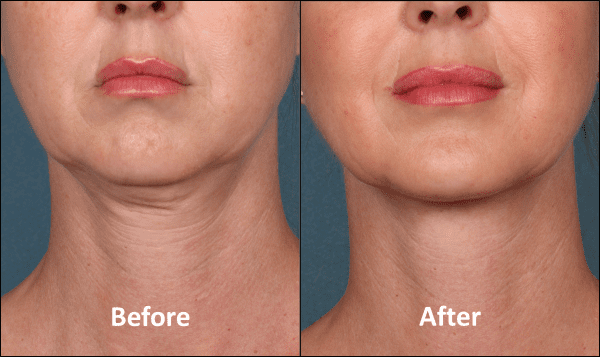 How Long Do Results From Kybella Last?
You should begin to see results in about four to six weeks after your initial Kybella treatment at our Ocala location. This is because your body needs time to break down and eliminate the fat cells in your chin.
The amazing part about Kybella is that results are permanent. Fat that has been melted will not return, so you can enjoy the look and feel of your chin for years to come. However, because fat can come back with unhealthy habits, regular exercise and a balanced diet will ensure that your newly sculpted chin stays looking great.
Are There Any Risks With Kybella Treatments?
You'll be pleased to learn that Kybella is a non-surgical treatment and is not commonly associated with negative side effects. But as with any procedure, there are risks to consider. These include:
Redness, bruising, numbness, soreness, or swelling at the injection site (which should go away in just a few weeks without causing any lasting harm).
Nerve injury (extremely rare).
Muscle weakness (extremely rare).
Trouble swallowing (extremely rare).
The trained technicians at Advanced Aesthetics will make sure you understand these risks and what to do about them before scheduling your Kybella treatment.
Who Is a Good Candidate for Kybella?
Because Kybella injections are a non-surgical procedure, almost anyone with a double chin can benefit from them. Whatever the cause, if you're unhappy with the appearance of your chin and are looking for a fast and easy solution, Kybella may be exactly what you've always wanted.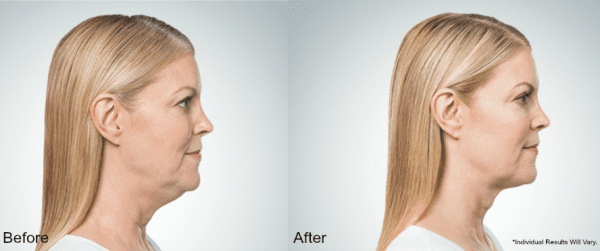 Why Ocala Clients Should Choose Kybella at Advanced Aesthetics
If you live in Ocala and want to get rid of your double chin for good, Kybella represents an easy, pain-free, and efficient solution. Because it's approved by the FDA, you can also rest assured that you're getting the best treatment on the market. Even more comforting is the fact that the professionals at Advanced Aesthetics Med Spa of Ocala have years of experience in their field.
When you're ready to get started on eliminating your double chin, give us a call at (352) 620-2566 to schedule your initial consultation.