Chemical Peels
Are you looking to improve the condition of your skin? Are you looking for a noninvasive treatment which may help your skin appear better? Do you live near Ocala, Florida? Then it may be a great idea for you to consider receiving a chemical peel at Advanced Aesthetics!
What is a chemical peel?
A chemical peel is a facial treatment which may improve the overall appearance of your skin. With the use of a mixture of multiple chemicals that are applied to your face, you may be pleasantly happy with the results after treatment. *
What kind of chemical peels are there?
There are a few different chemical peels which you may be able to receive. To start, there is the mild peel. This one may help with more mild skin ailments, such as dark spots or fine lines. On the other hand, it may be a better idea to receive a medium peel if you are looking to help treat mild discoloration and wrinkling. Lastly, a deep peel may be a great option if you want to treat discoloration, sun damage, and severe wrinkling. In regards to the products we use, we use two different products. We offer both Image peels and PCA peels.
What should I expect during treatment?
Depending upon the strength of the chemical peel, you may expect to see a slight variance in results. To start, the entire treatment process starts with a consultation. After going through the consultation and determining that this treatment is right for you, an appointment will be scheduled. During your appointment, the treatment may be begin by cleansing the treatment area in hopes of aiding you receive the most optimal results. The chemical peel, either in mild, moderate, or severe strength, is then applied. After a certain period of time, which varies depending upon the peel you receive, then the peel is removed. After the treatment, a soothing agent is applied to soothe the skin after treatment.*
Am I a good candidate?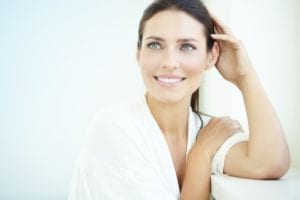 You may be a good treatment to receive a chemical peel if you are looking to improve the overall appearance of your skin without invading the treatment area. On the other hand, a chemical peel may not be a great option for you if you are currently pregnant, nursing, have taken Accutane in the past 6 months, suffer from a skin condition, a skin infection, or skin disease. If you are concerned that you may not be a good candidate, feel free to discuss it with us so that we may help you determine if this is right for you.*
Are there any side effects?
There are a few side effects which may follow after receiving a chemical peel. Some of the side effects may include but are not limited to scarring, herpes reactivation, infection, or skin discoloration may occur. If you are concerned with any of the side effects that you are experiencing, feel free to contact us so that we may be able to do our best to ease your concerns.*
What are some of the benefits I may see?
There are a few benefits you may see after receiving a chemical peel. Some of them may include but are not limited to a reduction in wrinkling, acne, scarring, age spots, or skin texture. If there is a certain benefit that you are looking for, feel free to let us know during your consultation so that we can help you determine which one is best for you.*
If you believe that a chemical peel is right for you, feel free to schedule a consultation, book an appointment, or stop by Advanced Aesthetics. Thank you, and we look forward to seeing you soon!
*Results may vary and are not guaranteed. The information provided will not guarantee your eligibility for treatment. Consultation and medical examination must be completed before approval.
Signature Facelift Peel
Our signature results-driven treatment combines vitamin C, hydroxy acids and enzymes to speed up cellular renewal.  New technology of centella stem cells support rosacea/redness prone skin and botanical detoxifying and energizing complexes give noticeable results in just one session.
Beta Lift Peel
This powerful non-blended beta hydroxy acid treatment quickly and effectively targets and improves grades III and IV acne.
Perfection Lift Peel
Our exclusive blend of exfoliating agents are combined with powerful antioxidants, correcting peptides and plant-derived stem cells to create "perfection" when treating advanced pigmentation, acne and aging conditions.
Ormedic Lift Peel
A blend of pumpkin, pineapple, papaya and mango fruit enzymes and peptides in an organic aloe vera gel base; this non-chemical peel rebalances, regenerates and restores skin while comfrey plant stem cells recharge your skin's stem cells helping to maintain youthfulness of skin.
Vi Peel
Vi Medical Products offer innovative clinical skincare formulations using scientifically proven, results-oriented ingredients designed to achieve and maintain skin health for all skin types and conditions. Skin that is properly maintained through professional exfoliation treatments and appropriate home care products stays healthy, youthful and radiant at any age. They use synergistic blends of active ingredients formulated for to promote healthy beautiful skin to last a lifetime with the following benefits: improve the tone, texture and clarity of the skin; diminish the appearance of skin discolorations; reduce the appearance of pore size; soften the appearance of fine lines and wrinkles; purify acneic skin conditions by reducing inflammation, post-inflammatory marks, bacteria and excessive cell build-up and stimulate fibroblast activity, increasing collagen and elastin production for firmer skin.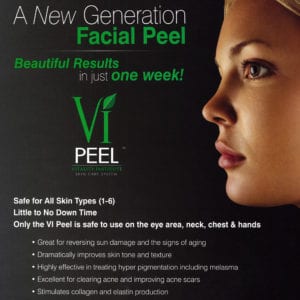 VI Peel
VI Peels represent the next generation of chemical exfoliants unlike any others you might have experienced. Each treatment includes a specially formulated post peel kit which is an essential component for treatment success.
ANTI-AGING – Reverse the effects of sun damage, environmental factors and time, to enhance the skin's natural beauty and luminosity.
ACNE PRONE – VI Peel PURIFY addresses the main cause of breakouts, killing p. acnes, clearing impurities and calming inflammation.
HYPERPIGMENTATION – Dramatically improve melasma, PIH and UV induced hyperpigmentation.
SENSITIVE SKIN – Improve sensitive skin conditions including rosacea, eczema and psoriasis.
COMFORT – The synergistic blend of ingredients allows for a virtually painless peel experience.
CONVENIENCE – Each treatment takes less than 20 minutes enabling the clients to return to normal daily activities immediately.
MINIMAL HEALING TIME – Clients enjoy healthy, youthful, beautiful skin in about one week