Have signs of aging left you feeling disappointed in your appearance? It's normal for skin that was once smooth and flawless to begin to show fine lines and wrinkles over time. But these symptoms can be a big hit to your self-esteem and self-confidence.
If you live in Ocala, there's good news. At Advanced Aesthetics Med Spa of Ocala, you can get our revolutionary microneedling treatment. With this procedure, a small needle is used to puncture your skin, stimulating the production of new skin. This will give you a revived appearance with fewer signs of aging.
What Is Microneedling?
Don't be alarmed by its name; microneedling is a safe procedure that's far less dramatic than more invasive treatments. Microneedling is also called collagen induction therapy, and it uses the SkinPen to puncture your skin with many small needles. These needles are targeted specifically to help your body eliminate tired, old cells and rejuvenate with fresh, new skin.
Microneedling also stimulates the production of collagen and elastin, two important building blocks for your skin. When these natural proteins have been restored, your skin will regain a firmer, healthier appearance.
Another great benefit of microneedling is that it creates superficial micro-channels in the deeper layers of your skin. That means you can actually get better results from skin creams, serums, and topical gels to promote your skin's health.
The Benefits of SkinPen
At Advanced Aesthetics, we use the most advanced microneedling techniques, including the groundbreaking SkinPen®. Some benefits of this microneedling device include:
It is FDA-cleared and proven to be safe and effective.

It can produce remarkable results in as few as 3 treatment sessions.

It is the most comfortable microneedling technique available on the market.

It stimulates collagen production to reduce neck wrinkles, acne scars, and fine lines.
The SkinPen will boost your confidence with radiant skin that you'll love!
Where Can Microneedling Be Performed?
Microneedling isn't just limited to your face. The technique can actually be used throughout the rest of your body. Advanced Aesthetics in Ocala is fully qualified to treat the following areas:
Your neck, especially for creases and along your neckline
Your arms and hands, especially to address pigmentation and wrinkles
Your legs, especially to reduce stretch marks or pigmentation
Your abdomen, especially to eliminate stretch marks and creases
Your back, especially to help with acne scars and sun spots.
How Does the Microneedling Procedure Work?
At Advanced Aesthetics, the microneedling procedure is conducted by qualified professionals. The technique begins when the SkinPen is connected to a sterile cartridge tip with 12 separate points. After applying a layer of protective topical gel, our technician will drag the SkinPen along the targeted area of your body, allowing the pen's needles to puncture your skin automatically.
Because the microneedling procedure is so gentle, you're unlikely to experience any pain. At worst, you may feel as though a light piece of sandpaper is being pushed across your skin. To limit this discomfort, the topical gel applied at the beginning of treatment acts as a soothing and hydrating layer, keeping your skin safe.
The entire procedure should only take about 15 to 30 minutes, though this depends on the size of your treatment area. Immediately afterward, you'll be able to return to your Ocala home to rest or return to your normal routine.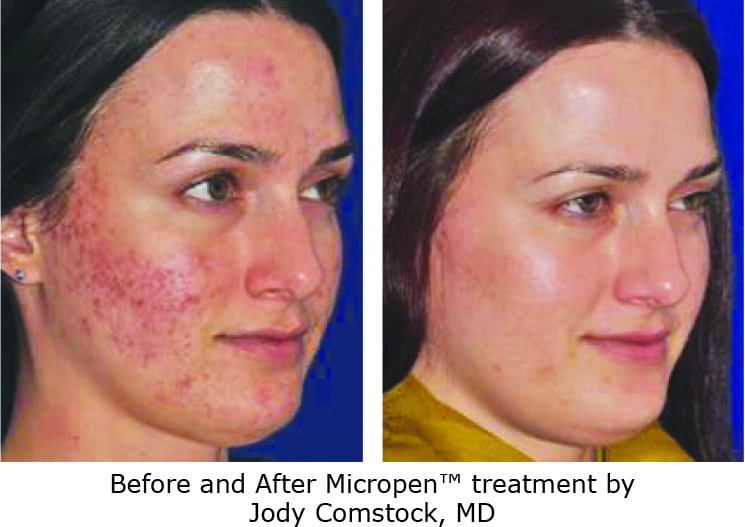 What Is the Recovery Process Like for Microneedling?
You'll be back in action in no time after finishing a microneedling treatment. There is no significant recovery process associated with this procedure, as it's not considered to be traumatic to your skin. You may notice that the treated part of your body appears red or inflamed immediately after the microneedling is done, but this is normal. The redness will gradually fade over the course of a few days.
When it comes to results, you'll notice right away that your skin looks better than it did before. But don't be disappointed if it's not exactly what you expected. Full results of microneedling take some time to develop. This is because your body has to recycle old skin cells and produce new ones. You'll continue to see improvements over the next few weeks, with full results tapering off around six months after treatment.
Do Ocala Clients Require More Than One Microneedling Treatment?
You might be lucky enough to require only a single microneedling treatment to get the outstanding results you want. But it's not uncommon to need two or three treatments to achieve the full effect of rejuvenated skin. If you have severe acne scars or stretch marks, you may even require up to eight treatments. Any of these additional appointments will be scheduled about six to eight weeks apart, and one of our technicians will explain in detail how many treatments you might need to achieve your own best results.
You may also want to consider scheduling a maintenance treatment once per year. This will allow you to retain your youthful appearance on a long-term basis.
Eliminate Aging With Microneedling in Ocala
If you live in Ocala and are tired of having unattractive skin, the microneedling services from Advanced Aesthetics Med Spa of Ocala can help. This quick and easy procedure turns back the hands of time, giving you the beautiful and smooth skin that you had in your youth.
To learn more about how microneedling can help you, call Advanced Aesthetics Med Spa of Ocala at (352) 620-2566 to schedule your initial consultation.