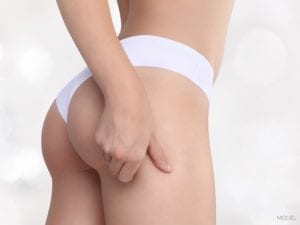 Technically, cellulite doesn't discriminate. Both Ocala men and women can have this frustrating cosmetic condition. But, with more than 90% of women suffering from cellulite over a mere 10% of men, it seems as though it actually is more attracted to the finer sex.
But why? Why is it that cellulite is more prone to be visible on women than on men? Keep reading, and we will discuss that question and how we can help with one of our proven cellulite treatments.
Why Do Women Have a Bullseye on Their Thighs?
There are several variables to take into consideration when explaining the reason for the discrepancy between the number of women who suffer from cellulite and the number of male sufferers. These reasons include:
Hormones
Hormones like estrogen, insulin, thyroid hormones, and prolactin all play a huge role in the development of cellulite. As women enter puberty, prepare for childbirth, or enter menopause, the levels of estrogen in the body fluctuate. This can lead to more stored fat, or depending on your age and stage, depletion of collagen. Either way, the fluctuation of female hormones can do a number on her body and cause cellulite to become more visible as it pushes against the outer layers of the skin.
Age
While age does affect the appearance of cellulite, it can actually show up as early as puberty. However, as we age, our skin loses elasticity and collagen, meaning it's thinner and more likely to droop. Age also leads to muscle loss, which gives cellulite more freedom to develop and give your legs a bumpy appearance.Regardless of your age, our team of professionals is well-equipped to provide you with effective cellulite treatment that will give you the results you've been dreaming of!
Distribution of Fat
There is a known link between fat distribution and the connective tissues beneath the skin. Women have connective tissues that are arranged vertically, which causes cellulite fat cells to more easily protrude through and push against the outer layer of skin. And because women naturally have thinner skin than men do and tend to store fat on their thighs and buttocks, women are more likely to suffer from cellulite.Even women who have a low BMI and are overall fit and trim can deal with cellulite. If you are tired of looking at your dimply thighs, let us help with a customized cellulite treatment plan based on your specific needs.
Lifestyle
If you live a sedentary lifestyle and don't really watch what you eat, chances are you're dealing with cellulite. Even though a woman's metabolism largely depends on hormones, it's important to maintain a healthy diet of protein, healthy carbohydrates and fats, and plenty of fiber to help control or reduce body fat. Additionally, participating in regular strength training exercises will decrease the appearance of cellulite as muscles grow and fat decreases.
Don't Wait to Call Advanced Aesthetics Med Spa of Ocala!
If you're a woman in Ocala and you're leading a healthy lifestyle, but still deal with cellulite, call Advanced Aesthetics Med Spa today to learn more about the cellulite treatments we have available. We understand how frustrating it can be to look in the mirror and see dimply, bumpy skin, and we want to help smooth and rejuvenate the appearance of your skin.
Contact our Ocala office today at (352) 620-2566 to learn more about our different cellulite treatments.