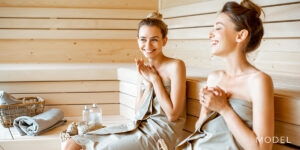 With the increasing amount of med spas and day spas, it is not hard to find the perfect opportunity to look and feel your best. However, a few key differences between a med spa and a day spa can help determine which one is right for you. Find out the type of treatments you can find at a med spa and day spa, and which you should choose based on your individual needs and goals. 
What Is a Med Spa? 
A med spa, also referred to as a medical spa or medi-spa, is generally a type of hybrid practice that offers a unique blend of traditional, alternative, and cosmetic treatments. 
At a med spa, you will typically find a well-rounded team of certified skin care specialists, aestheticians, nurses, doctors, and other medical professionals who can tailor your treatment to help you meet your aesthetic goals. 
Med Spa Treatments 
Med spas offer a broad spectrum of treatments that can help elevate your wellness, health, and aesthetic appearance. At Advanced Aesthetics Med Spa of Ocala, our team of medical professionals offers the following med spa services: 
BOTOX® & Dysport®

Dermal Fillers  

Body Contouring

Skin Tightening & Resurfacing 

Non-Surgical Facelift 

IPL Photofacial 

Laser Hair Removal 

Vaginal Rejuvenation 

MiraDry® 

Microneedling 

Brow & Lash Treatments

HydraFacial® 

Chemical Peels 

Microdermabrasion 

Dermaplaning 



Our wide range of treatments means you can find the right one to help you reach your aesthetic goals. You can rest assured that every treatment and procedure we offer is backed by years of research. Contact us to learn more and schedule an appointment.
Glowing Benefits of a Med Spa
There are many benefits to choosing a reputable med spa for your rejuvenating treatments. These benefits include: 
Trusted Providers

– Many med spas, including Advanced Aesthetics Med Spa, have a great team of trusted providers with years of education, training, and experience. You can rest assured knowing they will give you the best possible care.

Multitude of Treatments

– Whether you want to improve wrinkles, reduce the appearance of facial scars, revitalize your appearance, or simply pamper your skin, the wide range of treatments at a med spa provides the opportunity to find the right one for you and your needs. 

Personalized Treatment Plan

– Since med spas are primarily operated by a team of medical professionals, you will receive a treatment plan that is personalized to your needs, goals, and expectations. This provides the best chance of delivering optimal treatment results. 
What Is a Day Spa? 
A day spa is a type of practice that focuses on improving your inner wellness and/or outer beauty through a wide range of relaxation, rejuvenation, and therapeutic treatments. Day spas typically follow a holistic approach to helping you unwind and destress for a combined mind and body restoration. 
Day Spa Treatments 
Generally, day spa treatments include massage therapies, facials, body masks, manicures and pedicures, bathing rituals (e.g., mud baths), steam rooms, saunas, reflexology, and many others. 
Relaxing Benefits of a Day Spa
If you are interested in visiting a day spa, here are some benefits that you can take advantage of: 
Rejuvenate Your Mind & Body

– With their expansive list of wellness treatments, day spas offer the ideal opportunity to rejuvenate both your mind and body. Sit back, relax, and relish in the experience of prioritizing yourself. 

Less Stress

– From restorative massage therapies to relaxing facials, day spa treatments can help reduce stress and cortisol levels for better health and wellness. Less stress can also improve sleep, enhance productivity, and reduce muscle tension. 

Look More Radiant

– The right facial or massage can do wonders for the skin, like increasing blood flow and circulation for a glowing appearance, reducing age signs, hydrating your complexion, and addressing specific cosmetic concerns. 
Which is Right For You: Med Spa or Day Spa? 
If your goal is to improve your complexion, reduce signs of aging (like wrinkles and dark spots), and address specific body concerns, such as stubborn belly fat, a med spa is likely the right choice, as you will have access to a strong team of medical professionals who offer trusted aesthetic treatments and can build you a personalized treatment plan. 
If your goal is to relax and unwind, pamper yourself with a cosmetic treatment, or reduce your stress levels, a day spa is better suited to your needs, with its wide range of massages, facials, and other restorative therapies. 
Achieve Your Cosmetic Goals at Advanced Aesthetic Med Spa 
If you are ready to achieve your cosmetic goals, such as a more youthful complexion or a slimmer and more toned tummy, the team at Advanced Aesthetic Med Spa is here to help. Get in touch with our practice today to schedule a consultation.