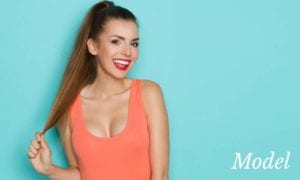 It's not a fun fact (or one that many of us want to accept), but it's one absolute of life—we all age, and signs of aging will show up in one way or another on our bodies. Part of this aging process means that our skin will become loose and sag because collagen production decreases more and more as we get older.
Collagen and elastin are the two primary aspects of the skin that gave us plump cheeks and taut necklines in our youth. To restore lost collagen, our team at Advanced Aesthetics Med Spa in Ocala can perform skin tightening treatments with a state-of-the-art device called TempSure Envi. If you're interested in getting tighter skin, but don't want to go under the knife for an invasive surgical procedure, TempSure Evni may be just what the doctor ordered.
What Is TempSure Envi And What Can It Do for My Sagging Skin?
TempSure Envi is a skin tightening device approved by the FDA. It uses radio frequency energy to gently heat the deepest layers of skin and encourage collagen and elastin production, resulting in a rejuvenated appearance.
To perform this skin tightening procedure, one of our clinicians will first apply a specialized gel to the treatment area or areas and will then move the handheld device in circular motions to target the skin deep within. Because of specialized technology, TempSure Envi protects the top layers of skin, leaving them unharmed during treatment sessions. Instead, the precise heating rebuilds collagen and elastin connections at the source—deep within the dermis. The result is the enhancement of skin structure and appearance.
At Advanced Aesthetics Med Spa in Ocala, our team uses TempSure Envi skin tightening treatments to tackle loose skin, fine lines and wrinkles, and excessive skin folds.
How Many Skin Tightening Sessions Do I Need to Achieve My Desired Results?
Our team of professionals at Advanced Aesthetics Med Spa recommends a series of skin tightening treatments for most patients in Ocala. Some patients will experience results after just one treatment session and depending on the severity of the area or areas to be treated, just one session may be enough. However, the only way to know how many skin tightening treatment sessions you will need will be determined by the condition of your area or areas to be treated, so the best thing you can do is visit one of our team members for a one-on-one consultation so they can develop an individualized treatment plan just for you.
When patients leave our office after just one visit, many of them say their skin feels tighter, and they will have a beautiful glow of rejuvenation to the treated area. The best part of skin tightening treatments with TempSure Envi is that new collagen will continue to rebuild over time and the appearance of your skin will continue to improve week after week.
Visiting Advanced Aesthetics Med Spa for Skin Tightening Treatments
Our team has been providing Ocala residents with amazing non-surgical anti-aging solutions for more than 16 years, and they can help you, too. Our entire medical spa has been developed with you—the patient—in mind. Your comfort, confidence, and satisfaction are our top priorities, and we intend to provide you with results you can be proud of.
If you're ready to find out how skin tightening treatments at Advanced Aesthetics Med Spa in Ocala can literally change the skin you're in, call us today at (352) 620-2566 to book your initial consultation!