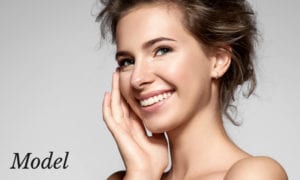 Here at Advanced Aesthetics Med Spa of Ocala, our team works diligently to provide the best technologies and techniques on the cosmetic market to our patients. One of those revolutionary technologies is the TempSure Envi device we use to perform non-surgical facelifts in our area clinic.
TempSure Envi provides non-surgical facelift patients with amazing results by stimulating collagen production using radiofrequency energy. Because one of the main causes of visible aging on the face is due to decreased collagen production, the energy produced by TempSure Envi causes the treated tissue to produce more collagen as the energy flows deep into the foundational layer of the skin, known as the superficial muscular aponeurotic system (SMAS), precisely heating the tissue.
While skin-tightening devices have been available for years, TempSure Envi technology is advanced in that it allows a higher amount of heat to be applied to the SMAS while protecting the top layer of skin and the nerves below. This makes the entire procedure much quicker than other treatment options, and virtually pain-free.
How Does TempSure Envi Work to Restore Lost Facial Volume?
As we mentioned, one of the main reasons for signs of aging on the face is due to the lack of collagen beneath the skin. A non-surgical facelift at Advanced Aesthetics Med Spa of Ocala can provide men and women with a younger-looking, refreshed appearance by stimulating collagen production and restoring lost volume throughout the face. Specifically, non-surgical facelifts with TempSure Envi address the loss of facial volume in the following ways:
Non-Surgical Facelifts Restore Hollowed Out Cheeks
One of the main areas men and women experience signs of aging on the face is in their cheeks. This is due to a loss of volume, which leaves them with a sunken in or hollowed out appearance. As the TempSure Envi device gently heats the SMAS below the top layer of skin, collagen production is stimulated, and the cheeks fill out to a more youthful, apple-like appearance.
Non-Surgical Facelifts Restore Lost Volume in the Temples
The building blocks of youthful skin are elastin and collagen, but as we age, our bodies begin to slow the production of collagen, and our skin begins to lose elasticity. This results in wrinkles, sagging skin, and lost volume throughout the face. A prominent area of the face where lost volume is most noticeable is in the temples. By using TempSure Envi for your non-surgical facelift, our team is able to stimulate collagen production in the temples, giving Ocala men and women alike a more youthful appearance.
Non-Surgical Facelifts Restore Fullness Around the Mouth
Conveniently, TempSure Envi has applicators in different sizes allowing for full customization of the non-surgical facelift procedure. For patients who have experienced lost volume around the mouth, a non-surgical facelift with Advanced Aesthetics Med Spa can reduce the appearance of fine lines and wrinkles and give you a more voluptuous, appealing mouth.
Let Our Team at Advanced Aesthetics Med Spa of Ocala Restore Your Youthful Appearance With a Non-Surgical Facelift
While individual results will vary, many of our patients will require 3-4 non-surgical facelift treatments with TempSure Envi to achieve their desired results. We recommend yearly maintenance in order to keep your skin looking full and rejuvenated.
If you're ready to get started with our non-invasive approach to a facelift, take a look at our reviews for more insight from our patients.