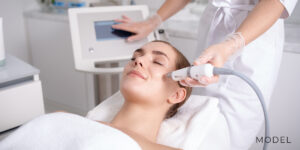 With the myriad of cosmetic treatments nowadays, it has never been easier to achieve a desired look. Even better, with the growth and advancements of non-surgical cosmetic treatments, there is no need to go under the knife to beautifully shape, contour, and rejuvenate your face and figure. 
At Advanced Aesthetic Med Spa, our experienced team of nurses, aestheticians, and skin care specialists offer numerous non-surgical cosmetic treatments to help you look and feel the way you want. Learn more about the benefits of non-surgical cosmetic treatments and how they can improve your life. 
Benefits of Non-Surgical Cosmetic Treatments
No Incisions, Stitches, or Scars 
Say goodbye to painful incisions, uncomfortable stitches, and unsightly scars with non-invasive cosmetic treatments at Advanced Aesthetics Med Spa. 
Instead, achieve your cosmetic goals with treatments that use innovative techniques and technology to strategically shape, contour, and redefine your appearance. 
Quick Results 
Depending on the type of cosmetic surgery, it can often take several months to see and experience the final results. With non-invasive cosmetic treatments, you can take advantage of quicker results, showing off your new look in a shorter amount of time. 
Minimal Downtime
Cosmetic surgery, such as liposuction or lip augmentation, generally requires at least one week of downtime, with many doctors recommending at least two weeks for some more comprehensive procedures, like a tummy tuck. 
One of the primary benefits of non-invasive cosmetic treatments is their zero or minimal downtime requirements. 
For instance, at Advanced Aesthetics Med Spa in Ocala, treatments like dermal fillers, BOTOX®, and SculptSure® require no downtime. After the procedure, you can return to your daily routine and go about your life normally! 
Easier Recovery 
No matter which non-invasive cosmetic treatment you choose, you can expect an easy and comfortable recovery. 
Since no incisions or stitches are involved with these types of cosmetic treatments, minimal healing is required. No need to plan for help at home or take time off from work! 
Long-Lasting Results 
While non-invasive cosmetic treatments may seem not as effective as cosmetic surgeries, you may be surprised to discover that many cosmetic treatments deliver long-lasting results that you can maintain for years. 
For example, SculptSure is a breakthrough fat removal treatment that targets and destroys fat cells. Since the fat cells are permanently removed, you can take advantage of everlasting results when you maintain a healthy lifestyle. 
Low Procedure Risk 
Unlike cosmetic surgeries, which pose a higher risk of infection and other complications due to the use of general anesthesia and incisions, non-invasive cosmetic treatments are very safe, yet incredibly effective. 
Furthermore, after surgery, you are often given a list of side effects and symptoms to keep an eye out for, as these may indicate unwanted complications. You can expect low procedure risk, minimal or no side effects, and an easy recovery with non-invasive cosmetic treatments. 
Reduced Associated Costs 
Since there is no hospital stay involved with non-invasive cosmetic treatments at Advanced Aesthetics Med Spa, which means no fees associated with a surgical team (i.e., anesthesiologists, nurses, and technicians), you can revitalize and rejuvenate your appearance for an overall lower cost. 
We often hear from our patients that this is one of the best benefits of non-invasive cosmetic treatments, as they can achieve their aesthetic goals for less! 
Short Procedure Time 
While cosmetic surgeries can sometimes take multiple hours, our non-invasive cosmetic treatments generally take under an hour to complete. Since it is a shorter procedure time, we often find that many of our patients come in on their lunch breaks. 
Book Your Non-Invasive Cosmetic Treatment in Ocala 
If you are ready to take advantage of the many benefits that non-invasive cosmetic treatments provide, schedule a consultation with the experienced providers at Advanced Aesthetics Med Spa. 
Whether you want to sculpt your body with SculptSure, improve wrinkles with BOTOX, look younger with dermal fillers, or revitalize your appearance with one of our many other cosmetic treatments, we look forward to helping you feel your best. Contact us to book your treatment today.