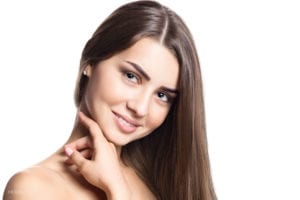 Every year, our office sees hundreds of men and women from all over Ocala looking for solutions to fight the signs of aging on their face. With all of the advancements in cosmetic technology today, we can help! And we don't even need to make a single incision to do it.
At Advanced Aesthetics Med Spa of Ocala, we use the latest in skin tightening technology to provide our patients with amazing non-surgical facelift results. TempSure Envi revitalizes the skin using radiofrequency technology. This energy works to stimulate the deepest layers of the skin, heating up the tissue beneath and causing it to produce more collagen. With collagen production stimulated, Ocala men and women gradually experience lift and tightening of sagging skin and a reduction of fine lines and wrinkles.
With TempSure Envi, our patients enjoy many amazing benefits, as this non-surgical facelift device works wonders at eliminating loose skin around the cheekbones and jowls, skin folds on the neck and fine lines and wrinkles around the mouth and eyes.
But why choose non-surgical facelift over a traditional facelift? This is one of the biggest questions we are asked during consultations, so we'd like to point out 3 benefits you will experience when you choose to have a non-surgical facelift with us.
1. Little to No Risk of Side Effects
When our patients choose a non-surgical facelift instead of going under the knife with a traditional facelift, they will have virtually no risk of side effects. TempSure Envi is gentle and safe for all skin tones and types, requiring no incisions or IV anesthesia; therefore, there is no risk for side effects. Some patients might find that their skin is slightly red immediately following their non-surgical facelift treatment, but this slight discoloration will fade over the following days as your skin begins to heal.
2. No Downtime
Choosing non-surgical facelift over a traditional facelift means that you will experience no downtime, and what can be better than that? From the minute you enter one of our private procedure rooms, your entire non-surgical facelift will only take one hour! That means you can come in during your lunch break and return to work the same day – no time off required!
3. Quick and Easy Procedure
One of the best things about a non-surgical facelift with Advanced Aesthetics Med Spa in Ocala is that the entire procedure takes just one hour to complete. And not only that but because our technicians apply a specialized gel before performing the procedure, your skin will be soothed and calmed the entire time. There is no need for any anesthetic, and non-surgical facelifts with TempSure Envi are pain-free – many patients even report the experience to be enjoyable and relaxing.
Choose Advanced Aesthetics Med Spa of Ocala For Your Non-Surgical Facelift
With a non-surgical facelift, you can turn back the hands of time without going under the knife with a traditional facelift. Choose our state-of-the-art system to eliminate your severe signs of aging!
Contact our Ocala office today at (352) 620-2566 to book your free consultation and learn more about TempSure Envi skin tightening.